An international cooperative effort that increased tropical taxonomic expertise, conducted a taxonomically diversified global census of coral reef ecosystems, and improved access to and unified coral reef ecosystem information scattered throughout the globe.

Nancy Knowlton

Julian Caley

Russell Brainard
Project Leaders:
Nancy Knowlton, Ph.D., Center for Marine Biodiversity and Conservation, Scripps Institution of Oceanography, University of California San Diego, La Jolla, California, USA and National Museum of Natural History, Smithsonian Institution, Washington DC
Julian Caley, Ph.D., Australian Institute of Marine Science, Townsville MC, Queensland, Australia
Russell E. Brainard, Ph.D., Coral Reef Ecosystem Division, Pacific Islands Fisheries Science Center, National Oceanic and Atmospheric Administration (NOAA), Honolulu, Hawaii, USA
---



Coral reefs are considered to be the most biologically diverse of all marine ecosystems. While individual reef systems likely host tens of thousands of species, most of this diversity remains undocumented. Significant declines in key indicators of reef ecosystem health suggest a degradation of coral reefs globally in response to the combined effects of natural and anthropogenic stressors. The vulnerability of coral reef ecosystems is anticipated to increase significantly in response to climate change induced coral bleaching and disease, ocean acidification, sea-level rise, and changing storm tracks. There is a clear danger that much reef biodiversity could be lost before it is even documented, and researchers will be left with a limited and poor understanding of undisturbed reef communities on which to base future management decisions. Under these rapidly changing conditions, a key goal for reef resource managers and policy makers over the next several decades will be the development of tools to increase the resilience of global communities through effective conservation of coral reef biodiversity. In order to develop reasonable approaches to improve the resilience of coral reef biodiversity, and to effectively use the ecosystem approach to management, it is first necessary to understand existing biodiversity and changes over time.

In an attempt to enhance global understanding of reef biodiversity, the goals of the CoML Census of Coral Reef Ecosystems (CReefs) were to conduct a taxonomically diversified global census of coral reef ecosystems, increase tropical taxonomic knowledge, develop new, universal protocols (e.g. DNA-based technologies and long term sampling devices) and increase access to and exchange of coral reef data dispersed throughout the world. Because coral reefs are the most diverse and among the most threatened of all marine ecosystems, the justification for and challenges represented by a Census coral reef field project were substantial. It was not possible to completely survey all reefs within the timeframe of the Census, nor to provide full documentation of all coral reef organisms even within a single site. Researchers strove to accomplish the following:
Provide representative coverage within the global Ocean Biogeographic Information System (OBIS) of the main biogeographic regions where reefs flourish: Pacific Ocean, Indian Ocean and Caribbean Sea.
Make an estimate of the likely global diversity of coral reefs and the extent to which biodiversity is being lost as a function of anthropogenic reef degradation.
Establish protocols, new sampling methods (e.g. Autonomous Reef Monitoring Structures (ARMS) as indices of reef biodiversity), tools, and databases to further coral reef census-related activities in the years to come.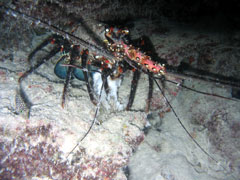 Image credits, starting at the top of page: (1) American Samoa. Photo: Kimberly Page, NOAA; (2) Red pencil urchin. Photo: Jacob Asher, NOAA; (3) Rose Atoll. Photo: Kimberly Page, NOAA; (4) Algal Team, Rapid Ecological Assessment, Northwestern Hawaiian Islands, Photo: Jean Kenyon, NOAA; (5) Lobster. Photo: Jeremy Jones, NOAA.

Visit the Census of Coral Reefs Ecosystems [1] website.