A program to develop and promote the application of acoustic tagging technology to study migration routes and ecosystem usage of Pacific salmon and other marine species.

Jim Bolger
Project Leader:
Jim Bolger, Executive Director, Vancouver Aquarium, Vancouver, British Columbia
---
The Pacific Ocean Shelf Tracking (POST) Project was designed to develop and promote the application of acoustic tagging technology to study the life history of Pacific salmon. A major area of focus for POST involved the development of a permanent continental-scale telemetry system. POST's array sits on the seabed of the continental shelf and upstream in several major rivers, and is used to monitor the movements of not only salmon, but many other types of marine animals along the shelf. Tracking data generated from the array can be applied to the development of fishery management policies aimed at the sustainable harvest of resources, and to the understanding and conservation of other marine and diadromous species.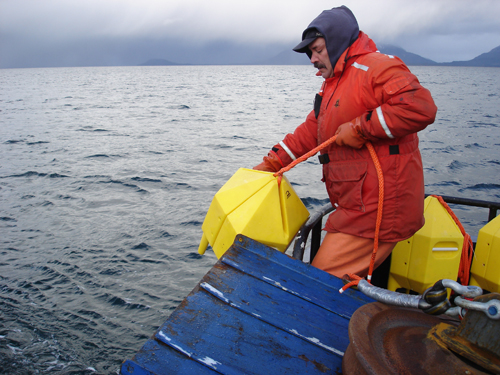 Receivers being deployed in Prince William Sound, AK. Credit: Brad Reynolds, Prince William Sound Science Center
Methods and Technology
Acoustic tags allow the movements of individual animals to be tracked for the duration of their residence on the continental shelf, potentially through the entire life history of shelf-resident species. Juvenile salmon caught in rivers can be implanted with acoustic tags, allowing their journeys to be seamlessly tracked from fresh- to saltwater. Acoustic tags transmit an identifier unique to each tagged animal, the signal being detected and recorded when within range of an acoustic receiver moored on the seabed. Receivers are placed across the continental shelf in a series of lines such that their detection ranges overlap, ensuring very high probability of detection of every tagged animal. Tracking information can reveal the direction, speed, and timing of movements of individual animals; in some cases data also shows the regions of the coast and times of the year where mortality occurs to a greater or lesser extent.

POST receiver deployed in the Vancouver Aquarium's Strait of Georgia exhibit. Credit: John Healey, Vancouver Aquarium
Scientific Objectives
Many fundamental questions about the movements and survival of Pacific salmon and other species remain unknown. With the ultimate goal of sustainable use of ocean resources, there is a need to fill these information gaps. Developing a better understanding of the behaviour and success of various species will not only help managers in determining what actions will enhance survival, but may also eventually aid governments in developing policies to increase survival in the marine habitat.
In the first eight years, researchers along the west coast of North America used POST to track nearly 16,000 individual animals of 18 different species. The suite of animals tagged now includes squid, sharks, sturgeon, salmonids and groundfish. They have been tracked for studies simply examining movement patterns, comparing survival between populations or under different conditions, or for complex experiments that correlate movements and survival to measured physiological and genetic characteristics.
Tagging a white sturgeon on the Fraser River, BC. Credit: Jonathan Thar, POST
System Evolution

In 2002, the first acoustic listening lines were deployed around northern Vancouver Island, BC, as two-month experiments tracking 120 tagged steelhead smolts. The trial successfully demonstrated the possibility to track the movements of 100% of the tagged animals crossing a line.
Tests were scaled up for a larger experiment in multiples locations, essentially encircling Vancouver Island with POST listening lines from 2003-2005. Continued success, with both the equipment performance and research results providing valuable insight into the journeys of salmon and other species like green sturgeon, led to the deployment of a permanent array in 2006. That first iteration of the permanent array stretched an impressive 1,500km, from Southeast Alaska to northern Oregon, USA.
2008 brought a doubling of length that the POST array, with new lines being deployed and maintained in collaboration with partners in Cordova, AK and Santa Cruz, CA. As the Census of Marine Life draws to a close in 2010, the POST array stretches along over 3,000km of coastline in the Northeast Pacific, from Prince William Sound, Alaska, through British Columbia to Central California. A database of tracking data generated by the POST array is now available online and regularly feeding results to OBIS. POST's online database and mapping tools provide a convenient location for the scientific community and public to explore the movements of marine animals.
Breadth of the POST array as of 2010. Red symbols indicate locations of lines of POST's acoustic receivers. Credit: POST
Implication
POST provides an accessible tool for researchers to build knowledge around Pacific salmon and other transient marine species. It is POST's hope that new knowledge will contribute to the conservation and stewardship of species, populations and stocks in the Northeast Pacific.
Visit the Pacific Ocean Shelf Tracking Project [1] website.