News Conference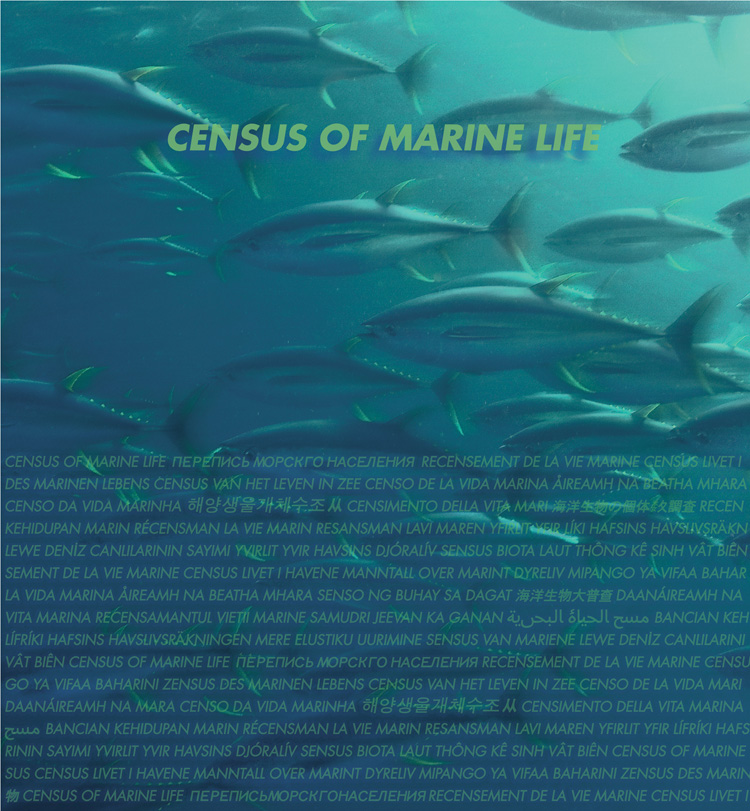 First Census Shows
Life in Planet Ocean is Richer,
More Connected,
More Impacted than Expected
Culminating a 10-year exploration, 2,700 scientists from 80 nations report first Census of Marine Life,
revealing what, where, and how much lives and hides in global oceans;
To measure changes caused by climate or oil spills, Census establishes a baseline;
New species discovered, marine highways and rest stops mapped, diminished abundance documented;
Online Census directory allows anyone to map global addresses of species
Full News Release (PDF)
Image Gallery
Video Gallery
News Conference and Panel Presentations
Monday, 4 October, 13:30 local time (12:30 GMT)
Royal Institution of Great Britain, 21 Albemarle St., London W1S 4BS.
J. Frederick Grassle Science Symposium Preview Posters
The Royal Society, 6-9 Carlton House Terrace, London SW1Y 5AG
Highlights Report
First Census of Marine Life 2010: Highlights of a Decade of Discovery (English, PDF)
Books
Paul V. R. Snelgrove. Cambridge University Press, 2010.

Nancy Knowlton. National Geographic Society, 2010.

Global Marine Life Database
The
Ocean Biogeographic Information System
(OBIS) is the data integration component of the Census of Marine Life and an ongoing resource for global marine biodiversity research. Governance of OBIS has been handed over to the Intergovernmental Oceanographic Commission of UNESCO; OBIS is now part of IOC's International Oceanographic Data and Information Exchange program.
Fellowship Announced
Music Video
A Census-inspired song,
Look to the Sea
, by singer/composer Maryann Camilleri, musician Jerry Harrison (formerly of the Talking Heads), and engineer David Dennison (responsible for numerous recordings of Jerry Garcia), with accompanying video produced by National Geographic Digital Studio will be available for free download at 20:00 GMT on 6 October at
www.coml.org
.
Census-Inspired Works of Art
Census discoveries have proven to be an inspiration to artists around the world. The
Census of Marine Life-Inspired Artwork
(PDF) is a testimony to the excitement generated and the creativity it inspires when the natural and artistic worlds come together.